Fruits for a Type 2 Diabetes Diet
Fruits have been part of our diet since we've been eating food.
They are definitely not going anywhere anytime soon so we should embrace this fact.
The main purpose of this article is to list the best fruit for those with type 2 diabetes.
The secondary purpose is to discuss sugar in fruit vs. other sugar sources.
With education,  purpose, and balance you can possibly remove the need to eat that "emergency" candy bar.
Sugar in Fruit vs. Other Sugars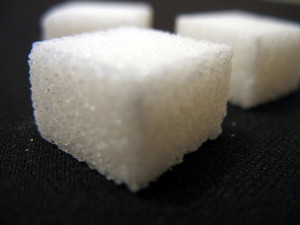 We know that type 2 diabetics need to carefully monitor their sugar intake. Let me ask you a question. Do you think that the sugar in fruit is the same thing as table sugar? Think about this example before you answer. Yesterday you ate two apples. A medium apple contains about 19 grams of sugar. So that's 38 grams of sugar for both apples.
Today you had one can of Coca-Cola. The total amount of "sugar"… ahem, high fructose corn syrup is 39 grams. The two apples and one can of soda contain about the same amount of sugar. Is the apple better or the Coke? Or are they equal as far as the sugar content is concerned?
Aristotle said that "the whole is greater than the Sum of its parts." You can take it to mean that a thing shouldn't be judged solely on it's own. What whole is the sugar part of in each respective food item? Let's have a look!
Apple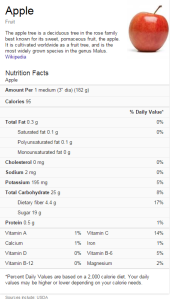 The apple is what some would call, a natural product. Elements came together to form compounds which later became a seed. This seed interacted with the total environment to produce a tree. The tree produced the apple. There are a lot more details than that, but you get the point. The apple is designed to benefit the human.
One of the most important ingredients in the apple is dietary fiber. This substance makes you feel full more quickly than foods that lack this.  Here are some the benefits of dietary fiber:
Aids with digestion
Helps prevent constipation
Helps control your weight
Let's take a closer look at the 3 bullet points above. Dietary fiber helps to ensure that food regularly passes through the body. This means that it isn't sitting around unnecessarily and causing buildup. And because the food is moving more regularly, weight control is more easily achieved.
Coke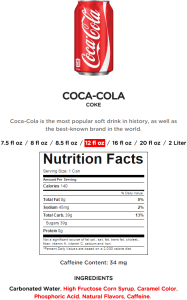 A can of soda  is quite simply made by human beings. There's a huge difference between something that is not made by humans versus something that is. The difference is that human beings with commercial interests are worried about their bottom line. In other words, "how much money will this  product make me?"
One 12 ounce can of Coca-Cola contains 39 grams of sugar. It also contains ZERO dietary fiber.
I want to quickly digress and mention something from my past. I used to eat fast food & fried food (sometimes fast fried food) on a regular basis. By that I mean at least 4 times a WEEK! That was a lot of soda and a little bit of fruit and vegetables (unless you count pickles on a cheeseburger). It was normal for me to have a bowel movement once or twice a WEEK!
Consuming more fruits (in appropriate amounts) allows food to efficiently pass through your body. They also taste good. Soda on the other hand tastes good, but there are no healthy correlations.
Sugar in Fruit is Good
You have seen a brief comparison between sugar in fruit and other types of sugar. Other types of sugar specific to this article being table sugar or high fructose corn syrup.
You can probably eat a regular sized candy bar in three or four bites. Some people (not you) will eat a candy bar and wash it down with a soda. How many grams of sugar is that?
Coca-Cola (39 g sugar)
Snickers (27 g sugar)
Total = 66 g sugar
And that is not even filling! One apple is more satisfying than that.
Fruit does contain fructose. However, there's not enough for you to overdose on. Moreover, fruit is typically consumed more slowly than junk food. A slower intake of fructose is more easily handled by your body.
Keep in mind that sugar is not the only thing in fruit. They contain a number of other beneficial ingredients. Take the following as an example:
It should be becoming clear that fruits are the natural alternative to an unhealthy diet. Especially for those of us with type 2 diabetes.
Carbohydrate Fundamentals
In order to gain a fuller understanding, you may want to condsider:
Carbohydrates in General
The nutrition newbie or perhaps even novice may get confused with the body of available information. Never fear! You are going to receive a logical and concrete understanding of carbohydrates from this section.
Carbohydrates can come from healthy or unhealthy sources.  An example of healthy sources are:
Fruit
Vegetables
Dry beans
An example of unhealthy sources are:
Simple Carbohydrates
Most unhealthy carbohydrates fall under this category. This type of carb is easy to digest since they're composed of one or two sugar molecules. To put it quite simply, these carbs keep you full for a relatively short time. This is why you can eat more store bought processed bread than homemade bread… AND more frequently!
There is a big difference between eating the actual fruit vs. consuming it's store bought, processed juice counterpart.
Processed foods such as fruit juice can be consumed in copious amounts for the following reason. The added sugar is both easily digestible and addictive. It becomes addictive due to over consumption. There is way too much sugar in a glass of fruit juice. This over consumption leads to a disruption of your biological makeup. Which further leads to you overeating to achieve the same or similar pleasure effect.
Complex Carbohydrates
Complex carbohydrates are healthy carbohydrates. They are composed of a long chain of sugar molecules. These carbs are associated with a good amount of fiber (remember digestion). Taking your carbohydrates from here is wise because they deliver energy over a longer period of time. Also, you don't crash and burn from them.
A  classic concrete example is oatmeal. If you have a bowl of oatmeal in the morning,  your body receives a steady amount of fuel. It's not like a candy bar or coffee with cream and sugar where you are wanting more after an hour or so. The oatmeal will keep you satisfied for a few hours.
How Much Should You Eat?
The amount of fruit to eat depends on your individual situation. Your Dr. or nutritionist should be able to guide you towards the optimal amount. WebMD has a nice general article about fruits. The "Fruit Salad" section of this article offers reasons why fresh fruit is the best choice.
You can also combine fruits with other foods to maximize nutrition. For example, adding some fruit to kale for an outstanding smoothie. A good choice might be:
1 cup of kale
1 banana (or 1/2)
A handful of strawberries
This can always be modified for your diet. If a whole banana is too much, use a smaller amount, and add an avocado (or 1/2). This will still produce a creamy smoothie with a lower level of sugar. Here's an example:
1 cup of water
1 cup of kale
1/2 banana (medium)
1/2 avocado (based on 1 cup, sliced)
5 strawberries (medium)
Nutrition
Calories: 223
Calories from Fat: 102
Total Fat: 11 g
Saturated Fat: 1.7  g
Sodium: 30.5 mg
Total Carbohydrate: 30 g
Dietary Fiber: 7.6 g
Sugar: 10.5 g
Protein: 5.5 g
Best Fruits to Eat
The following list is not meant to be exhaustive. It provides a list for some of the best fruits to eat for type 2 diabetics.
Apples
Apricots
Banana
Berries
Cherries (sour)
Dates
Grapes
Kiwi
Lemons
Limes
Nectarine
Orange
Pear
Tangerine
Summary
The purpose of this article was to list some of the best fruits for type 2 diabetics. You have probably seen this type of article before. Therefore a secondary component was added: Provide reasons why sugar in fruit is superior to other sugars. You learned the difference between the sugar in an apple vs. the sugar in a Coca-Cola. You understand that sugar in fresh fruit is NATURALLY occurring. It is not added to the food. Whereas sugar in soda is generously added to the product.
That laid the foundation to establish that sugar in fruit is good while added sugar to other foods is bad. The reason being you consider all ingredients in the apple. These individual ingredients come together for a beneficial result. It is as if the fruit was specifically made for human consumption. Contrast this with manufactured "foods" that debilitate rather than invigorate the person.
A supplemental discussion was offered about carbohydrates and the role they play. Basically, simple carbs are inferior to complex carbs as far as human health is concerned. However, fruits are simple carbs. This case is separate from other simple carbs. One of the differences here is that the fructose in fruit goes through the liver. This in turn is slowly made available in the bloodstream.
Then some basic guidelines were given for how much fruit you should eat. This includes the suggestion to combine fruit with other foods in order to maximize nutrition.