Three Diabetes Risk Factors You Can Eliminate
You may be one of the approximately 27 million Americans living with type 2 diabetes. You may believe that your diagnosis sentences you to a lifetime of medication and potentially life-threatening complications. Diabetes is certainly something you must take seriously; however, it is possible to control and even reverse diabetes through diet and exercise.
Diabetes by the Numbers:

Nearly two million Americans are diagnosed with type two diabetes every year. The condition is the seventh leading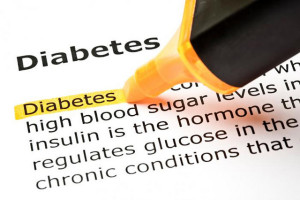 cause of death in the United States. Diabetes also accounts for 60 percent of non-traumatic lower extremity amputations in adults over the age of 20. According to the American Diabetes Association, the disease cost Americans $245 billion in 2012.
Type two diabetes is typically diagnosed in adulthood. Adults over the age of 65 account for roughly 26 percent of diabetes cases in the United States. Recent studies, however, show that type two diabetes is on the rise among young people. In 1994, type two diabetes accounted for five percent of newly diagnosed cases. Today the rate is 20 percent.
The Causes of Diabetes:
It is normal for your blood sugar to increase after a meal. Your body turns the carbohydrates in the food into glucose that your body uses for energy. In a healthy individual, the increased blood sugar signals the pancreas to release insulin that removes excess glucose from the blood and stores it in the cells for energy.
In a person with type 2 diabetes, the pancreas either does not produce enough insulin or cannot effectively use the insulin that is produced. Eventually glucose levels continue to rise resulting in diabetes
Risk Factors for Diabetes:
The primary risk factors for developing type two diabetes involve a combination of genetics and lifestyle. The genetic and other non-controllable factors that increase your risk of developing diabetes include:
• A family history of diabetes – You are more likely to develop diabetes if you have an immediate family member living with the condition.
• Your race – Experts are unsure of the reason, but African-American, Hispanic, Native Americans, and Asian-Americans are more prone to developing diabetes than Caucasians.
• History of Polycystic Ovarian Syndrome – PCOS is a common condition among women that is characterized by irregular menstrual cycles. It is unclear why, but women with this condition are at higher risk of developing diabetes.
• Age – Type two diabetes is most common in adults over the age of 45.
• A history of gestational diabetes – Women who develop pregnancy-related diabetes are at higher risk of developing the disease later in life.
Experts do agree on the fact that the main risk factors for developing diabetes involve lifestyle. This means that, in most cases, diabetes can be prevented or reversed.
Lifestyle risk factors for type two diabetes include:
• Excess weight – Being overweight is the number one risk factor for developing diabetes. The excess body fat makes cells less sensitive to the insulin produced by the pancreas. According to the Mayo Clinic, losing seven percent of your body weight can prevent or reverse diabetes.
• Abdominal fat – You are at higher risk of developing type two diabetes if you tend to store your excess weight around your belly.
• Sedentary lifestyle – Physical activity helps you to control your weight. It also increases your sensitivity to insulin which can lower blood glucose levels.
By eliminating these three risk factors from your life, you can drastically reduce your chances of developing type two diabetes.
Can Diabetes Be Cured?
Diabetes is a chronic condition and cannot actually be cured per se. The good news is that it may be possible to control or reverse high blood sugar to the point that you no longer require medication. The most successful method for reversing high blood sugar is a regimen combining a healthy diet with physical activity and losing excess weight.
It is important for you to continue to monitor your condition with the help of your doctor. Even if your diabetes is in remission, it is possible for that to change as you get older since the disease is progressive. Illness, increased stress, and even physical trauma like surgery, may cause blood sugar to be uncontrolled for a short period.
Reversing Type 2 Diabetes Through Diet and Exercise:
There is a misconception that diabetics have to eat special foods or eliminate certain foods from their diet. This is not correct. A person with diabetes should focus on eating a healthy diet of fresh fruits, vegetables, whole grains, and lean proteins. These foods help you to stabilize blood sugar levels and lose weight which is crucial to reversing diabetes.
The following provides a few examples of easy diet modifications that may help you reverse diabetes.
• Swap out white bread, white rice, and fried white flour tortillas in favor of whole-grain bread, corn tortillas, and brown rice.
• Instead of canned vegetables with added sodium or vegetables that are fried or covered in sauce, opt for fresh vegetables that are steamed, grilled or roasted.
• Choose fresh fruit or canned fruit with natural juice instead of fruit packed in heavy syrup.
• Eat plenty of lean protein such as fish and poultry instead of high-fatbeef or pork. It is best to grill, steam, or broil your meat instead of frying.
• Opt for low-fat and reduced fat dairy products instead of the full-fat versions.
• Choose healthy fats such as olive oil instead of hydrogenated shortening, butter, and lard.
• Avoid beverages with added sugars such as fruit punch, regular sodas, and sweet teas.
It is important to remember that there is no "one size fits all" diet. Your doctor, diabetes educator, or registered dietician can help you determine the right combination of foods to help you manage your diabetes.
It is difficult to reverse diabetes through diet alone. To achieve the best results, you must incorporate regular physical activity into your daily life. Regular exercise will help you lose excess weight and abdominal body fat. It will also improve your production and metabolization of insulin.
You should take the following steps in establishing an
exercise regimen:
• Consult your physician – Your doctor can help you determine the type of physical activity that is most appropriate based on your specific health history.
• Start slowly – This is especially important if you have been inactive for quite some time. You can try beginning with a short walk after dinner and gradually increasing the intensity.
• Set a goal – You should attempt to get at least 30 minutes of physical activity on most days.
• Switch it up – A variety of exercises is more effective at controlling blood sugar than a single type of exercise. Try alternating aerobic activities such as dancing or walking with resistance exercises such as yoga or weightlifting.
• Pack a snack – Exercise may cause your blood sugar to drop, especially if you currently take medications for your diabetes. A quick snack can help keep your blood sugar stable.
Attempting to reverse your diabetes through diet and exercise is not a quick fix. Living with diabetes requires a lifelong commitment to adopting healthy lifestyle habits and communicating with your doctor on a regular basis to track the progress of the disease and identify early signs of any complications.
If you find yourself struggling with implementing lifestyle changes, there are resources that may help. First, dieticians and diabetic counselors can help you come to terms with your diagnosis and give you suggestions on how to make healthier choices. Your doctor may be able to refer you to a local diabetes support group where you can get valuable information and share experiences with others in your situation. The American Diabetes Association website offers a variety of education materials and forums where you can talk with others living with the condition.
Get the Family Involved:
Experts suggest that family support can play a big role in making diet and exercise changes a success. A study involving native Hawaiians with diabetes showed they were more likely to sustain healthy lifestyle changes if they had family support. Another study of Hispanics with diabetes found that patients were more likely to exercise if the activity was family oriented.
The following are some ways you can help get your family on board:
• Encourage your family members to participate along with you in support groups and diabetes education classes. This will help them understand your condition and how they can help.
• Reassure your loved ones that you are still the same person and can still enjoy many of the same activities. For example, you don't have to give up the annual family barbecue at the lake, just make a few alternations to the menu.
• Ask your family to help you avoid temptation by not bringing unhealthy items into the house.
It is clear that healthy diet and exercise can prevent type 2 diabetes, even if you have genetic risk factors for the disease. Eating the right foods and staying physically active is even more crucial if you have already been diagnosed with diabetes. When incorporated into an overall diabetes management plan, diet and exercise can slow the progression or even reverse the disease and prevent serious complications.